A MULTI-FACETED CITY CENTER
Take a look at the covered market, the second largest in the department, before noticing the large Place Gambetta near the town hall and the Place Jean Hameau, where the Maison Lalanne stands.
What about visiting the oyster port, the spirit of La Teste with its tasting huts?
The choice is yours, and if you're looking for a guide, the tourist office is not far away, near Saint-Vincent Church.
Souvenir shop
The Tourist Office has selected local craftsmen and creators to help you (re)discover local know-how and products: decoration, accessories, games, books and many other gifts to give to your loved ones… Or to treat yourself of course!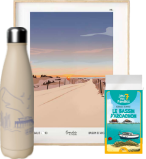 The oyster port
Discover an authentic and picturesque place, the oyster port: "a port in the city center". As you stroll around, you won't be able to miss the evidence of an overflowing activity.
The city market
The La Teste market, one of the larggest in Gironde, is a friendly place right in the heart of the city. Around twenty shopkeepers welcome you every day …
LA TESTE BUILDINGS
As you stroll through the center of La Teste de Buch, you won't fail to notice a few old buildings: Eglise St Vincent, Hôtel Lalanne, Hôtel de Baleste, Maison Verthamon…
USEFULL INFOS
Opening hours
All year long from Monday to Saturday: 9am-12.30pm and 2pm-5.30pm.
In July and August from Monday to Saturday: 9am-6.30pm, Sundays and public holidays: 10am-1pm.
Adress
13 Bis rue Victor Hugo
33260 LA TESTE DE BUCH
Phone number : +33 5 56 54 63 14
Opening hours
All year long from Monday to Friday: 8:15am-5:30pm
Adress
BP 50105
33164 La Teste de Buch Cedex
Phone number : + 33 5 56 22 35 00
www.latestedebuch.fr
From Bordeaux, take exit 15 on the A63 ring road, continue for 25km then join the A660 highway towards the Bay of Arcachon.
Then take the direction of La Teste Centre on the D217 departmental road.
Unforgettable experiences