The Bird Island: a place out of time
If the Cabanes Tchanquées are the little jewel of La Teste de Buch, the Île aux Oiseaux is a treasure! Half land, half water, this place is a refuge for many bird species. Cast off, we'll take you on a tour of a thousand hectares of wilderness!
L'Île aux Oiseaux, between shells and feathers!
Here they are, the huts on stilts. Emblematic silhouettes that watch over a unique environment. You arrive on the outskirts of the Île aux Oiseaux: the birds made it their kingdom while the oyster farmers were building their oyster parks (the first ones date back to Napoleon III!).
Tour of the island by boat
A prefectural decree restricts access to this magnificent site: only boats can go around it. You won't be able to set foot on the Bird Island to look for treasure, but it's still worth seeing from your boat!
A bird's paradise near Bordeaux !
Out of time and 100% natural, the Bird Island invites you to let the magic happen. The place certainly lives up to its name: its ornithological wealth is exceptional.
250 species of birds can be seen here all year round. Whether you are a connoisseur or not, you are invited to enter this bubble where only the cries of migrants, winterers and other nesters will disturb you.
The Île aux Oiseaux, a place to preserve for a change of scenery
The sun is coming out, the pinasse is waiting, you are ready to embark… To preserve the tranquillity and authenticity of the Île aux Oiseaux, you will need to adopt all the reflexes ecofriendly Leave the fauna and flora as they are, and use soft mobility (sailing boats at high tide, electric boats or sea kayaks) to get reasonably close.
Nature Tips
Rich in an exceptional natural heritage: natural clam reserve in the north of the island, rare plant species, it is also a vast larder for migratory, breeding, wintering or sedentary birds.
Pratical informations
INFOS

Respect your environment
Hunting and gathering prohibited
Fire and barbecue prohibited
Bivouac and camping prohibited
Do not throw away waste

ACCESS

For environment preservation reasons, access is prohibited.
The northern part of the island is forbidden to all navigation, anchoring, beaching, trampling and fishing on foot, the site being a natural clam reserve. Any violation is subject to fines and prosecution.

Observe the Bird Island

Embark on the maritime shuttles to observe the Île aux Oiseaux during a lovely stroll on the Bay.

In July and August, departure from the Port of La Teste de Buch. Reservations at the Tourist Office of La Teste de Buch
Boutique souvenirs
L'Office de Tourisme a sélectionné des artisans et créateurs locaux pour vous faire (re)découvrir le savoir-faire et les produits locaux : décoration, accessoires, jeu, livres et plein d'autres cadeau à faire à vos proches… Ou vous faire plaisir bien sûr !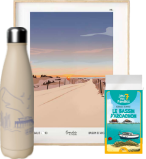 Contact us
Take a boat trip around the Bay of Arcachon to discover the Île aux Oiseaux with the Union des Bateliers Arcachonnais!